HighGo - BARRIER FOR ACCESS CONTROL
Flap Barrier Control
Designed to control entering or exiting restricted areas, flap barriers can be used for both indoor and outdoor applications. Integration of intelligent speed gate management system can fulfill functions such as entrance control, pedestrian volume control, and tolling. Flap barriers provide solutions ranging from high performance and secure entry solution, user-friendly operation, safety redundancy, fast throughput rates and ease of peripherals integration. Through flap barriers, enterprises and communities can gain complete access management for control entry and exit of all passages in the building.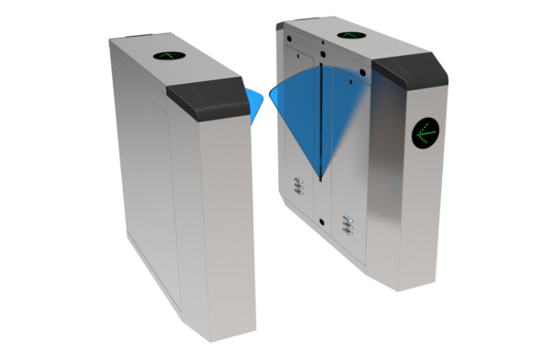 What Is A Flap Barrier?
Flap Barrier also known as speed gate is used for control access to pedestrians in public passages. They are designed to identify people and provide access only to authorized persons or individuals with appropriate permissions. Majorly used to control the crowd at public places, the flap barrier can be accessed with the help of tokens or cards. Since entry will not be provided without the appropriate token, corporations can avoid the crowd and provide visible security. In case of a power failure, an emergency control device allows automatic opening of the two wings which will be reset automatically when the power supply is resumed. Flap barriers an also have customized visitors & members management software that can be centrally monitored and controlled.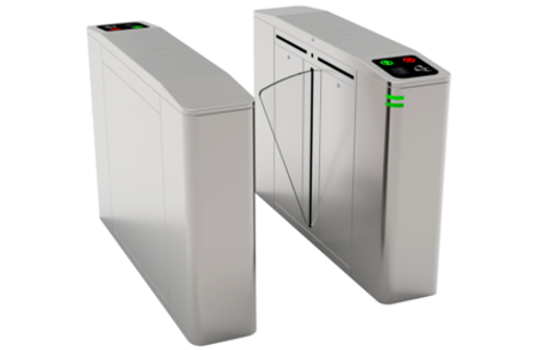 Key Features and Functions
Easy to use and maintain alarm functions and fault detection
The main board has a built-in keyboard that can be program and control the running status
Ant-breakthrough function locks the gate automatically until the opening signal is received
Mechanical anti-pinch function is responsible reset the process in case of resistance
Synchronization of functions for dual gate equipment
Types of Flap Barriers
High-speed system:
Generally used in malls. These types of flap barriers are able to swap the gates multiple times per minute in an efficient manner
Remote controlled system:
The owners have the remote access to the flap barrier gate and no one can enter the site without appropriate permission.
Low-speed system:
They tend to have low speed while swapping when compared to high-speed systems. Though it can be used for the entry, it is not resourceful in crowded locations.
Card accessed barriers:
Large organizations and business enterprises prefer this type of flap barrier for security reasons. Only those with ID cards are given access to enter the office.
Benefits of Flap Barrier Systems
Flap barriers are very useful in places where large crowd often gathers as they assist and control the entry and exit of people. Sensor-based flap barriers are usually synced with the access control system and are extremely helpful to reduce any security breach by restricting individuals who are unauthorized. It is also easier and more convenient to get in and out of commercial and industrial buildings. Automated gates and flap barriers eliminate the need for employees and other resources that may be needed to control operations. It is also the most cost-efficient option as it reduces staffing, power consumption.
Designed for both private and public sectors, barriers to access control are often designed specifically by expert technicians. Having an opening time of having less than a second, it allows for quick and easy access inside the office. It also has bi-direction control and uses optical beams technique for security purposes. Advanced access control systems allow you to access the flap barrier and save time without the need for any physical contact. With the help of this user-friendly access control system and technology, you can expect an easy walkway path which is reliable. It is also capable of withstanding harsh environmental and operational conditions.
What Do We Do?
We provide renowned flap barriers integration and solutions that utilize the most advanced technology on security optical sensing. Our aesthetic designs provide easy entrance/exit passages to any facility wherever installed. Our solutions are customized to meet your business needs and operational requirements. We also ensure controlled access at utmost security solution that blends seamlessly in any prominent locations. Motorized barriers controlled by superior microprocessors run a highly tuned detection program and software algorithm combined with the best IR beam technology. Our easily tuned detection systems are engineered to best suit specific environments according to desired security levels.